Our Glass productions are the Highest of all Australian Standard. We choose to use Starphire Glass which gives the colour a TRUE high quality finish to your Kitchen or Bathroom or Laundry.
Our Glass Products are toughened to ensure the highest expectation of lifetime expectancy!
Your Colour Choice is endless – being Red, Blue. Black, Silver there is no limit to variety. Book in an appointment to view• Stone Splashbacks
• Kitchen Splashbacks
• Laundry Splashbacks
• Bathroom SplashbacksStone splashbacks are perfect for the kitchen, bathroom and laundry. They offer many advantages over tile splashbacks. We also match new stone splashbacks to existing benchtops and counters. Finally with a stone splashback there is no need for cleaning of grout and mould.1. Worried about mould? Or movement in your house due to natural causes Glass & Stone splashbacks are mould free and ensure a healthy, clean environment for your home.2. Need power or phone connections going through your splashback? Victoria Stone & Glass can fabricate the splashbacks to fit connections for appliances with ease and in your own home.
Our Range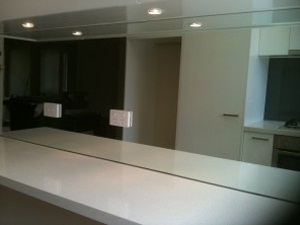 Perfect for giving the impression of additional space suitable for kitchens, bathrooms and laundries